2022 Volkswagen Tiguan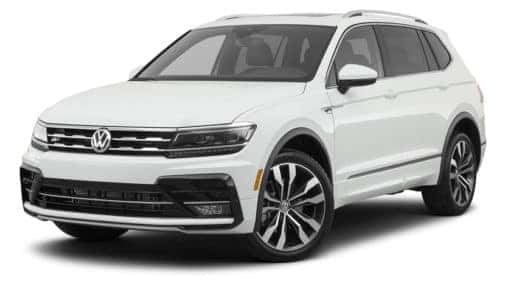 Starting at
$25,995[a]
2022 Ford Escape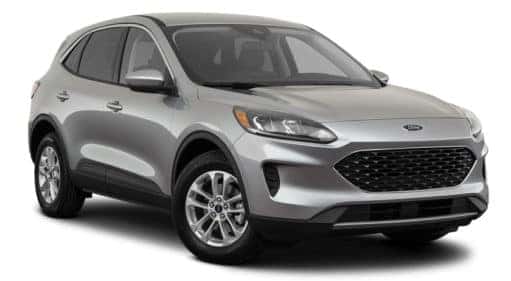 Starting at
$26,010
| | | |
| --- | --- | --- |
| 73.4 | Cargo Space (cu.ft.) | 65.4 |
| 8 | Screen Size (in) | 8 |
| 5-7 | Seating | 5 |
They're easy to drive, fuel-efficient, and stylish, which makes them the go-to options for drivers everywhere. We're talking about compact SUVs, and if you're searching for your next vehicle, we recommend taking a closer look at the selection of compact SUVs that are available in the industry. Now, more than ever, drivers prefer SUVs over sedans and minivans, and one of the top models on the road is the Volkswagen Tiguan. Its designer appeal and pleasant driving demeanor make it a crowd favorite, and whether it's hauling families all the places they need to go during the day or embarking on the road trip of a lifetime, the Tiguan can deliver an inspiring ride. There may not be many SUVs that can compete with the Tiguan, but the Escape is a worthy adversary. When it comes to the 2022 Volkswagen Tiguan vs 2022 Ford Escape, which vehicle comes out on top?
The Tiguan debuted for the 2009 model year, offering drivers a more modern approach to the classic SUV. Back then, there weren't as many options on the road, but SUVs were quickly becoming popular, and today's roads tell us all we need to know about which vehicles are dominating the industry. It would go on to be completely redesigned in 2018, showcasing a longer body, larger cabin, and an abundance of cargo space, really putting it on the map for a wider array of drivers. The Ford Escape, on the other hand, had a jump on the Tiguan by about a decade and has been a popular pick for years, but can its timeless appeal hold up to the effortlessly cool vibes of the Tiguan? In the areas of design, performance, and technology, both SUVs perform well above their competitors, but there is a clear favorite among more drivers as time marches on.
Design

Exterior Elements
From the outside, the 2022 Volkswagen Tiguan is accentuated by both contemporary and timeless features. Its latest model showcases a revitalized bumper and grille, as well as upgraded LED headlamps and more sleek features from every angle. Opt for the R-Line models and enjoy 19-inch alloy wheels, plus black elements, including the roof rails and headliner. It's not all about looks with the Tiguan, though, as its exterior exhibits unmatched functionality as well, including a hands-free Easy Open and Easy Close liftgate, which is accessible by kicking your foot under the rear bumper. If you're looking for a compact SUV that boasts some serious style, as well as extreme practicality, the Tiguan won't disappoint.
As sleek and stylish as the Tiguan and other SUVs are, you would think that the Escape would radiate the same level of style as well, but that's not the case, It's simplistic, from end to end, and while other SUVs are getting freshened up and restyled to appeal to the modern driver, the Escape just seems to look the same year after year. The only real excitement comes from the SEL Stealth AWD Package, which features 19-inch machined-face Ebony painted wheels, a gloss black upper grille, and sporty accents throughout.
Interior Design
Inside, the 2022 Tiguan boasts expansive cabin space, loads of comfort features, and an optional third row to accommodate even more passengers when needed. Upgrades to its cabin include a new steering wheel with touch-sensitive controls and more touch-friendly features throughout. When you want to get extra comfortable, upgrade to the available V-Tex leatherette seating, heated front seats, and panoramic sunroof. The minimalist interior design emanates the modern vibes we're searching for in our vehicles, which makes the Tiguan a perfect pick for drivers who prioritize style. Like its exterior, the interior is versatile as well as extremely stylish, offering 73.4 cu.ft. of cargo space when you opt for its two-row model. Plus, with configurable seating, like folding rear seats and storage cubbies throughout, taking on any type of trip is easy when you're riding in the Tiguan.
When it comes to interior design, we wish the Escape would give us a bit more to work with; however, you'll need to upgrade to its more expensive trims to enjoy anything other than the bare necessities. Top-of-the-line trims, like the Titanium, offer genuine leather seating materials, power-adjustable heated seating, and more luxuries within. Wide rear pillars compromise the Escape's visibility, and with only 65.4 cu.ft. of cargo space available, there's nothing too appealing about choosing the Escape over the Tiguan here. Due to the lackluster quality of many of the Escape's trims, the Escape isn't the top pick where design is concerned.
Performance

2022 Volkswagen Tiguan Ride Quality
You'll find one engine option in the Tiguan, which is a 2.0L turbocharged four-cylinder, but that's enough for this enjoyable vehicle. Providing 184 horsepower, this compact SUV boasts favorable acceleration, and with 221 lb-ft of torque, it's able to tow up to 1,500 lbs with ease. Perhaps what drivers admire the most about the Tiguan is its smooth driving demeanor that's matched with an athletic appeal, allowing it to take on any road with precision and confidence. Its sporty handling delivers just the right amount of excitement to the ride, and with its 8-speed automatic transmission with Tiptronic mode, you'll even be able to shift manually for more control during your journey.
4MOTION all-wheel drive is also available to take your ride to the next level. Constantly redistributing power to the front and rear wheels, this advanced all-wheel drive system makes precise tweaks to ensure the most traction on any surface. Pair this with Active Control drive modes, including Snow Mode, Off-Road Mode, and more, to instantly adjust to changing road conditions. This is especially helpful for those navigating inclement weather during Washington's chilly winter months. From the power you get from its capable engine to its cutting-edge all-wheel drive technology, the Tiguan is the ultimate companion to have on any journey, even when the road ahead gets a bit tough to navigate.
2022 Ford Escape Ride Quality
The Escape has two engines to choose from: a 1.5L EcoBoost and a 2.0L EcoBoost. However, the base 1.5L tends to be a bit on the boring side, with lackluster acceleration and lack of precision on the road. Upgrading to the more powerful engine is highly recommended here, as at least you'll be able to enjoy the ride, but that also means you'll be spending more money right off the bat. You'll also find all-wheel drive capabilities available, featuring AWD disconnect when all-wheel drive is not necessary, allowing for improved efficiency during your travels. Like the Tiguan, you're also able to opt for selectable drive modes to harness better stability and control over your ride, which makes the Escape another good choice for winter drivers. However, drivers have reported that it isn't the most refined when it comes to tackling twists and turns.
Unfortunately for the Escape, its base engine is abysmal. You're almost forced to upgrade to its more powerful engine, spending more money just to get a little more enjoyment out of your ride. The base (and only) engine in the Tiguan is not merely adequate; it's sporty and fun to drive. A lack of responsiveness also negatively impacts the Escape, making the performance of the Tiguan pleasing and appealing to many drivers. This is why the Tiguan is the obvious choice when your ride matters.
Technology

Top Tech in the Tiguan
If you're even remotely familiar with Volkswagen, you know that inside every VW model lies a treasure trove of tech goodies, and the Tiguan is no exception. Perhaps what's most appealing about the 2022 Tiguan is the VW Digital Cockpit, an advanced, customizable, 8-inch digital instrument display. From navigation to information about your drive, your experience behind the wheel will be fueled by modern innovation. Opt for the SEL R-Line model for a larger 10.25-inch screen and really maximize the control you have over your ride.
IQ.DRIVE is another feature drivers love in Volkswagen models, including the Tiguan. With hands-on semi-autonomous driving capabilities through Travel Assist, as well as Active Blind Spot Monitor and Adaptive Cruise Control allow you to travel safely, your Tiguan is watching out for what lies ahead of you on your journey. From collision mitigation to rear sensors that provide assistance while backing up, the Tiguan has your ride covered from virtually every angle, which makes this model one of the most popular in the VW lineup. Through its advanced tech and driver-assist features, it's no surprise that the Volkswagen Tiguan is a popular pick in the compact SUV category.
Top Tech in the Escape
The 2022 Ford Escape also includes its share of technology features, including a 12.3-inch Digital Instrument Cluster, which like the Tiguan, is completely customizable. From speed limits to navigation, this instrument cluster is one of the Escape's shining attributes. Unfortunately, it's only available on some of the most expensive trim levels. In fact, the only screen in the base model is a puny 4.2-inch radio display…another reason you'll need to upgrade to a more expensive model.
Similar to IQ.DRIVE, Ford Co-Pilot360 technology offers drivers the options they need to ensure maximum safety and assurance during their travels. Opt for Active Park Assist 2.0 to effortlessly navigate into even the trickiest of parking spots, and with its Rear View Camera, you'll be able to enjoy unmatched visibility behind you. Also available is a Head-Up Display, which presents important information about your ride right at eye level, including speed limit, incoming calls, navigation prompts, and more. Although the Escape offers a nice suite of safety and driver assistance features, it's not enough to make up for the fact that its best high-tech options can only be found in higher-level trims. That's why our pick lies with Volkswagen.